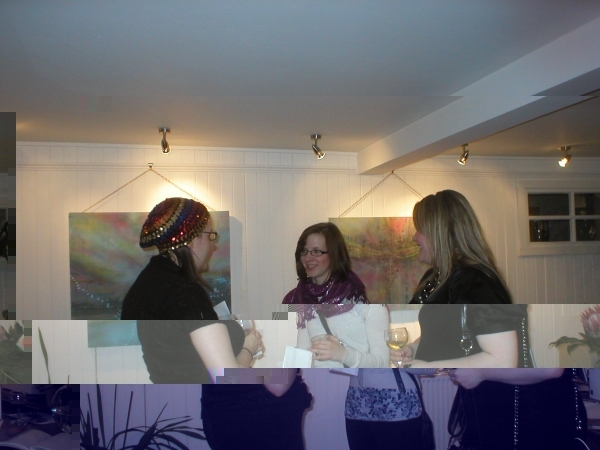 Katharyna Ulriksen was born in Norway in 1980, of Norwegian, Scottish and Polish decent. She graduated from Gray's School of Art with BA Hons in painting last year, having attended Peterhead Academy and then spending some time "earning" before determining to follow her lifelong passion for art.
Moving to Scotland when she was around five has accentuated her sense of place. She is Norwegian. She is Scottish. She is Polish. She feels her roots in all these places - and perhaps in none of them. With this background, journeying has been an essential part of her life. She has not missed the acceleration of society's need to travel, whether for business or pleasure. Finding one's own sense of place must become more challenging as the pace of life seems to gather speed without thought for its effects. "Autobahn" is the fruit of an Austrian excursion across its alpine motorways. The elements of that expedition are layered upon each other in this piece, emphasising the anonymity which speed creates in our twenty first century culture.
Ulriksen herself seems, nonetheless, to hold firm to her own sense of place. She is a Norwegian artist, following in her great, great grandfather's footsteps whose woodcarvings feature in the folk museum "at home" in Voss. She is a Polish artist, drawn to European travel. She is a Scottish artist, working and living here, sustaining body and soul in her studio in Peterhead. She cites Italian author, Italo Calvino, with his short story collection "Invisible Cities" as a significant influence. Lucy Lippard's "The Lure of the Local" is also influential. They create an emotional reaction which can also be found in Katharyna's work - a poignant resonance warmly created by a gentle colour pallet yet challenged by its darker, featureless landscape which seems vaguely familiar but lacking something. Perhaps a sense of place?
Since graduating Katharyna Ulriksen has exhibited in Glagow and Edinburgh. This is her first solo show.
Her exhibition runs until 20th November 2009. Bank Street Gallery is open Wednesday to Saturday 10am - 4pm and Sunday 1pm - 4pm